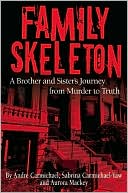 Synopsis
From childhood, Andre Carmichael suspected he had a twin, but his sister Sabrina consistently denied it. Then when Andre was 20, Sabrina told him she watched their abusive mother and older brother beat to death Andre's three-year-old twin, Latanisha, and hide her body in a bedroom closet, where it remained for two decades. Family Skeleton meticulously profiles the players in this horrific drama, while telling the story of the secret's revelation, the grim family dynamics that drove both the savage killing and the cover-up, and Andre and Sabrina's heroic attempts at healing.
My Thoughts
Unbelievable!
How shocking that people can treat their children this way. Even as the children turn into adults, the mind games and controlling continue.
My childhood was definately not perfect by any means, but nothing close to this either. Laws have changed to help children in these abusive homes but there are still alot of children that are missed.
It is very sad.
Sabrina and Andre were very strong to pull through this and not continue the abuse with their children. Kudos to both of them for the strength that they have.
I enjoy reading true stories even though they stay in my mind for days or sometimes weeks.